Everybody who is in a school or a sports club wants to wear high quality varsity jacket that stay with them for long. People look for quality material, customization options, colors and perfect size. How to design your varsity jacket online? Here you go – our online application you can do whatever you want. Start with materials, then pick you favorite color for varsity jacket body, snaps and pockets. Select sleeves material and sleeves color. You can also pick a style, i.e. classic, shirt, hooded or zippered hood. Customize trim style by choosing base color and strips style. Then its time to be an artist and start decorating your varsity jacket by adding letters, logos or varsity patch. You can also take a look at our size chart. If you got odd measurements no worries, we offer custom sizing, choose custom varsity size and add your measurements. Below you can find a tutorial how to design your varsity jacket online. This will help you understand how our online jacket builder works.
HOW TO DESIGN YOUR VARSITY JACKET ONLINE?
Select varsity jacket body material and color – Step 1
Start with the jacket materials, you can choose wool, satin, leather and cotton fleece material for the jacket body. Then you can choose the body, pockets and varsity snaps color and press next.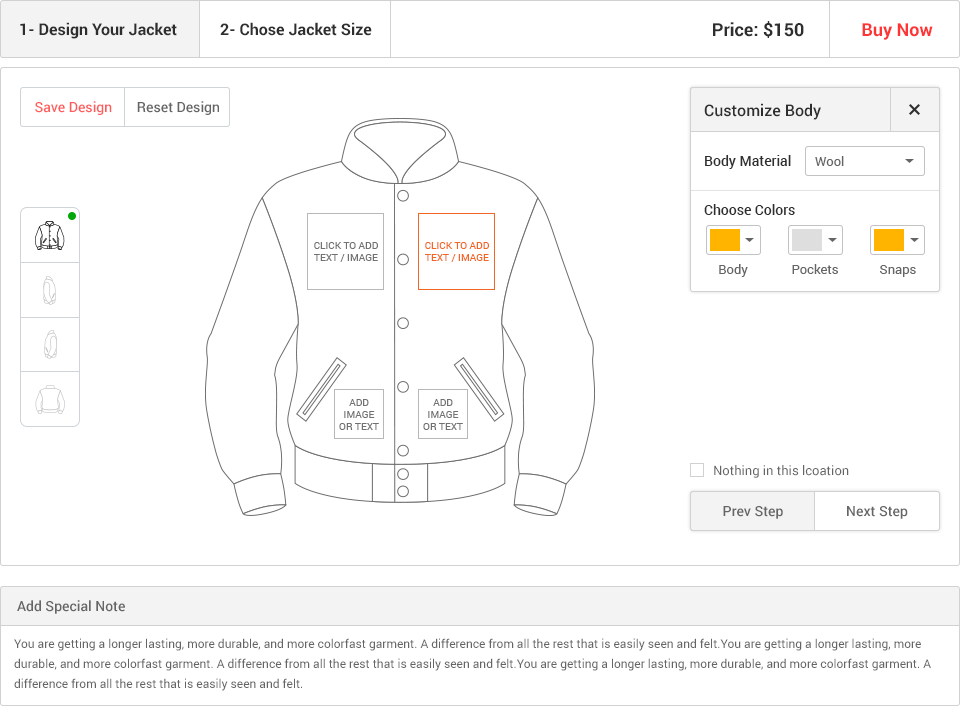 Select varsity jacket collar and trim style – Step 2
Now you have to decide about the jacket trim style, how many stripes you want for the cuff and collar trim. Also which jacket style you want. You can choose from standup collar, shirt, hoodie or zippered hoodie. You can select different colors of you choice for the custom rib and collar.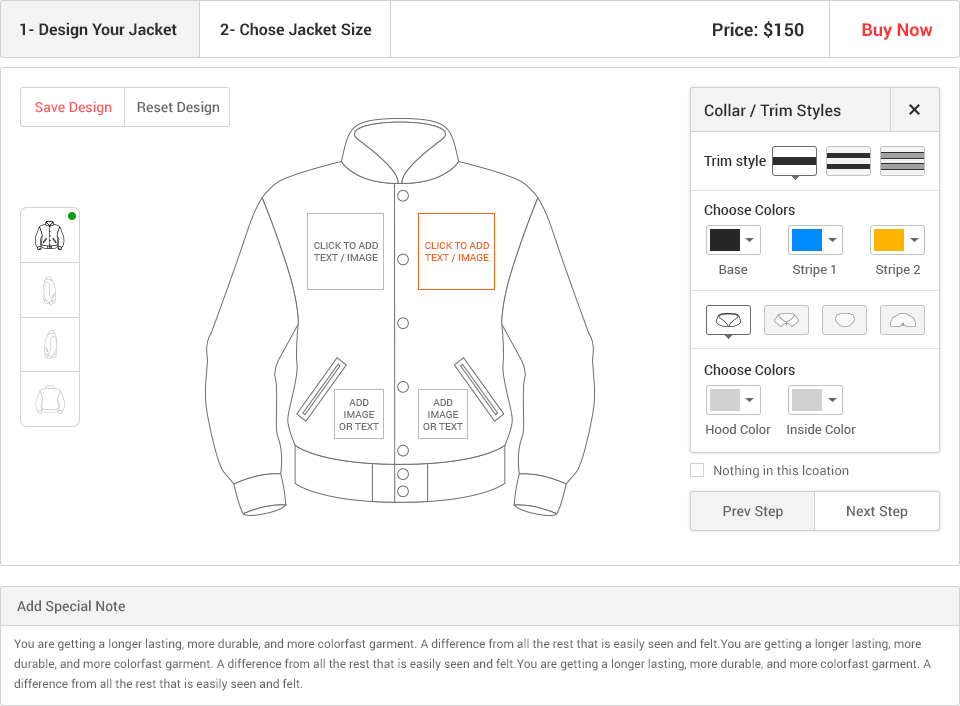 Select varsity jacket sleeves material – Step 3
In step 3 you can select sleeves material and sleeves color. There are different types of sleeve material in the list. You can pick from wool, leather cotton fleece or satin wool.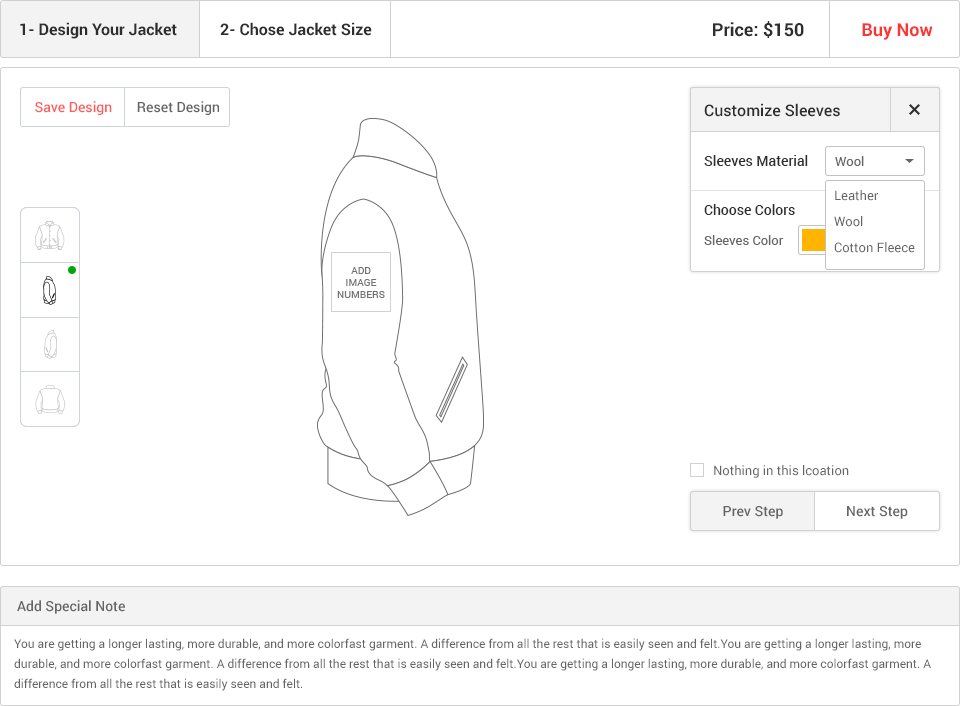 Decorate your varsity jacket chest and pockets – Step 4
Now to most interesting part comes, You are about the add typography, varsity badge or patches and going to decorate your jacket. You can upload a logo or type your letter using the design application. If you want to place your college logo, google it if you don't have. save it in your computer and then upload on the desired location. You can also choose type size, font, style and colors.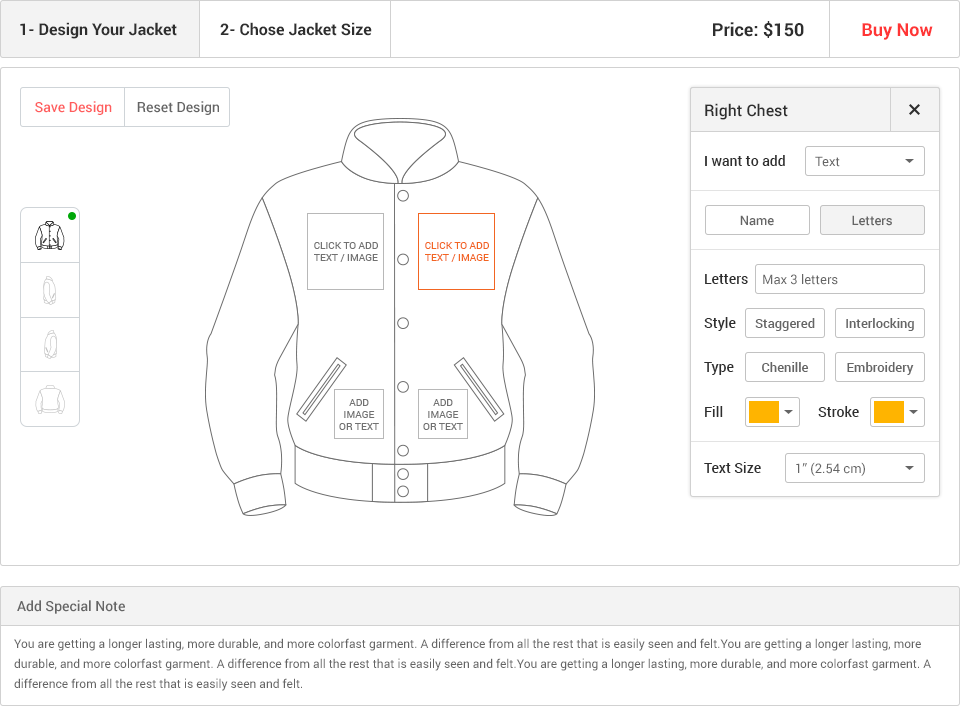 Decorate Your Varsity Jacket Sleeves – Step 5
You can add jacket sleeves numbers or embroidery and choose the color and style.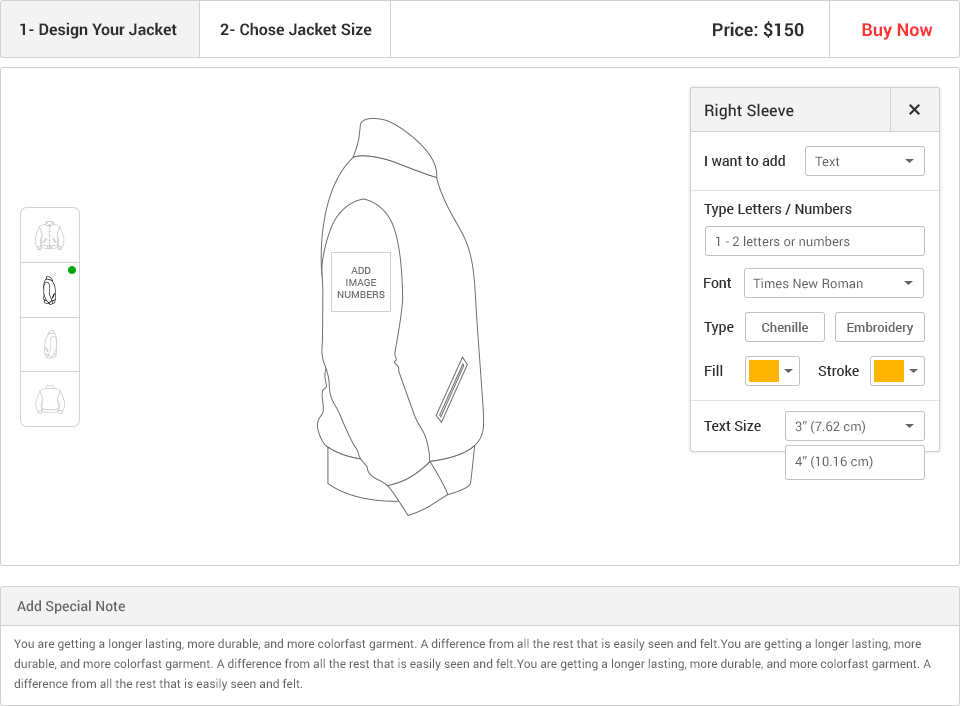 Decorate Your Varsity Jacket Back – Step 5
Here you can add artwork, school name or logo. You can upload the logo and select the size as well.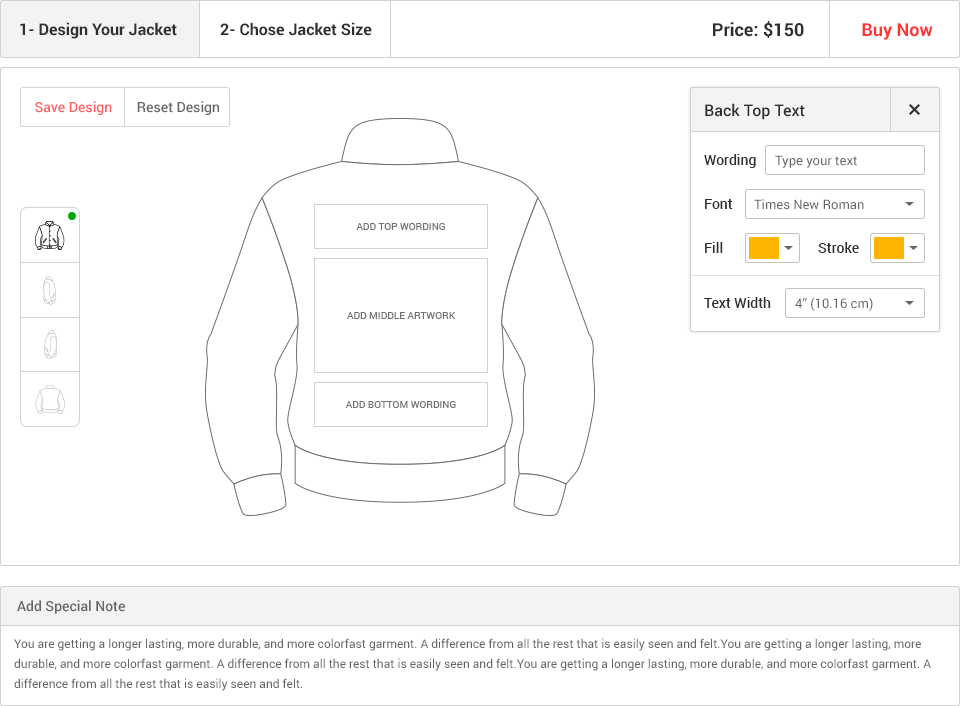 Select gender and jacket size  – Step 5
Select your gender and size you want. You can also add your custom measurements.